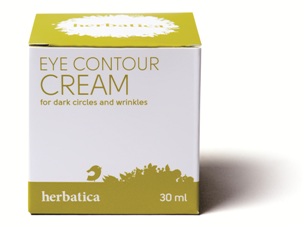 For Dark Circles and Wrinkles
About me
I am just what you need to fight the dark circles, puffed bags and wrinkling around your eyes. That's because I'm rich in purifying, soothing ingredients that protect the sensitive eye area against daily toxins and adverse environmental conditions, and help fight irritation and wrinkling. Now you can open your eyes to a brighter, plumper, and younger look.
I contain
Tetrapeptide-5, Methyl gluceth 20, Caprylic capric triglyceride, Glyceryl monostearate, Aqua, Paraffin light, Phenonip, Propylene glycol, Fragrance titanium dioxide, Cetearyl alcohol, Cetyl alcohol and Cyclomethicone.
How to use me
Using your fingertips and gentle circular movements, apply me morning and night to the area around the eyes.
لمحاربة السواد والجيوب المنتفخة والتجاعيد.
يحتوي على مكونات منقّية وملطّفة تحمي بشرة العين الحساسة من الملوثات اليومية والظروف القاسية.
كيفية الاستعمال
تُدهن كمية صغيرة منه بحركة دائرية حول العينين، صباحاً ومساءً قبل النوم.