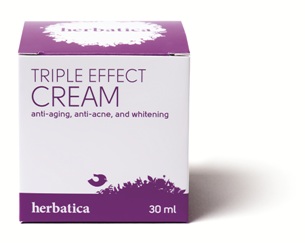 Anti-Aging, Anti-Acne and Whitening
About me
Whether you're suffering from age spots, acne or hyper pigmentation, I have the right ingredients for you. One deeply cleans and soothes your skin, helping reduce the irritation of acne. Another (Shea butter) penetrates deep into skin to maintain its moisture, restore its elasticity and even its tone. And a third, extracted from the bark of the Chilean Boldo tree, combats hyper-pigmentation and age spots. When it comes to healthy, radiant skin, it can't get any clearer than this.
I contain
Shea butter, Diacetyl boldine, PEG-20 methyl glucose sequistearate, Aqua, Paraffin light, Phenonip, Propylene glycol, Methyl gluceth 20, Caprylic capric triglyceride, Tochopheryl acetate, Fragrance, Trilaurine, Sodium ascorbyl phosphate and Cetyl alcohol.
How to use me
Apply me every morning or evening around your eyes, lips, face and neck. Crow's feet, under-eye wrinkles and bags, and creases in the upper lip and mouth corners should visibly diminish after 4 weeks.
لمحاربة الشيخوخة وحبّ الشباب وتبييض البشرة في آن.
يحتوي على زبدة الشيا التي تحفظ رطوبة البشرة بالعمق، وعلى مكونات طبيعية تنظّف البشرة من الجراثيم وتفتّح البقع الداكنة.
كيفية الاستعمال
يدهن كل صباح أو مساء على كامل الوجه والعنق وحول العينين.