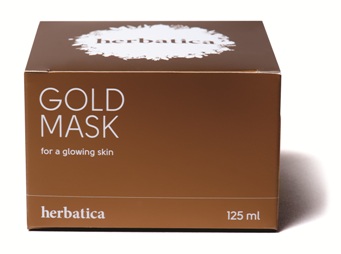 For a Glowing Skin
About me
Because your skin is precious, I'm made of a golden treasure. Hops extract is a rare component in nature that reacts instantly with your skin and opens up its pores. Collagen is immediately absorbed into your skin for a younger, firmer tone, and Bentonite clings to the deepest toxins and impurities and pulls them out. In one hour, acne, irritation and spots are gone, and wrinkles and blemishes diminish magically. For a face that glitters, choose gold.
I contain
Hops extract, Bentonite, Proxylan, Collagen, Chamomile extract, Methyl gluceth-20, Cetearyl alcohol, Cetyl alcohol, Ceteareth-12, Ceteareth-20, Propylene glycol, Phenoxyethanol, Benzophenone-4, Proxylan, Fragrance and Aqua.
How to use me
Apply me with your fingertips over cleansed face, avoiding the sensitive eye area. Leave for 1 hour then rinse thoroughly. Repeat once every week.
لمساعدة البشرة على امتصاص الكولاجين.
غنيّ بخلاصة الطبيعة، يعمل على تفتيح المسام فورًا لمساعدة البشرة على امتصاص الكولاجين وتخفيف التجاعيد والبقع. يلتصق بالترسبات والأوساخ ويقتلعها من العمق، ليجعل البشرة نقية خالية من الحبوب والشوائب.
كيفية الاستعمال
يُدهن بالأصابع فوق الوجه بعد غسله مع تفادي منطقة العين الحساسة. يُترك لمدة ساعة ثم يغسل. تُكرر العملية مرة كل أسبوع.