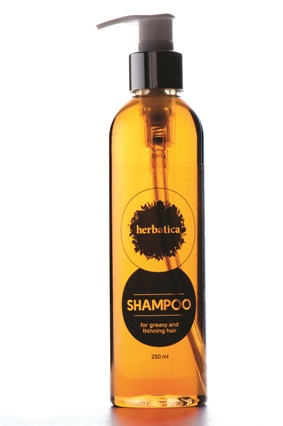 For Greasy and Thinning Hair
About me
I'm made with two of nature's most hair-friendly essential oils: Sage and Rosemary. Rosemary stimulates hair follicles and enhances healthy hair growth and sage balances scalp oils that cause greasy hair and hair loss. Don't go around looking for chemical treatments anymore. Open me up and let the remedy come naturally. Just like all herbatica shampoos, I'm made from 90% natural herbs solution instead of plain water to provide gentle cleansing and effective nourishment that you can see and touch in your hair.
I contain
Sage extract, Rosemary, Sodium lauryl ether sulfate, Cocamidopropyl betaine, Coconut diethanolamide, Fragrance, Kathon CG, Aqua, EDTA, Citric acid and Panthenol.
How to use me
Apply me on your wet hair and leave the lather in for several minutes to allow the active ingredient to work. Rinse thoroughly. Use me regularly.
لمعالجة الشعر الدهني والمتساقط.
يحتوي على إكليل الجبل المنشّط لنمو الشعر، وعلى المريمية لموازنة الزيوت التي تفرزها فروة الرأس والتي يؤدي فرطها إلى التساقط. 90٪ منه أعشاب مقطرة.
كيفية الاستعمال
عند الحاجة.