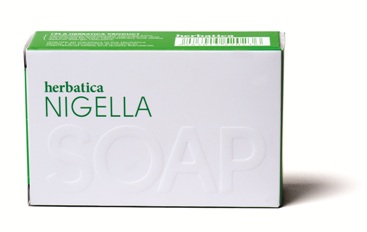 For Acne and Redness
About me
To fight acne, you need to fight the bacteria causing it. That's why I'm made from cleansing oils and natural, purifying herbs that effectively soothe and treat your skin. My main ingredient (Nigella sativa oil) is a legendary anti-bacterial agent which combats the symptoms of acne, skin redness and sagging. Open me and wash your skin problems away.
I contain
Nigella oil, Honey, Coconut oil, Castor oil, Glycerin, Alcohol and other plant extracts.
How to use me
Place me under warm running water, work me into a lather and then apply me to wet skin. Leave me for one minute then wash with cold water. Repeat 2 to 3 times daily as necessary. Keep me in a cool, dry place.
لمعالجة حبّ الشباب والإحمرار.
يحتوي على زيوت منظفة وأعشاب طبيعية مطهّرة تلطّف بشرتك بالعمق وتعالج الاحمرار والحبوب بفاعلية.
كيفية الاستعمال
مرتان إلى ثلاث يوميًا حسب الحاجة. يُحفظ في مكان بارد وجاف.